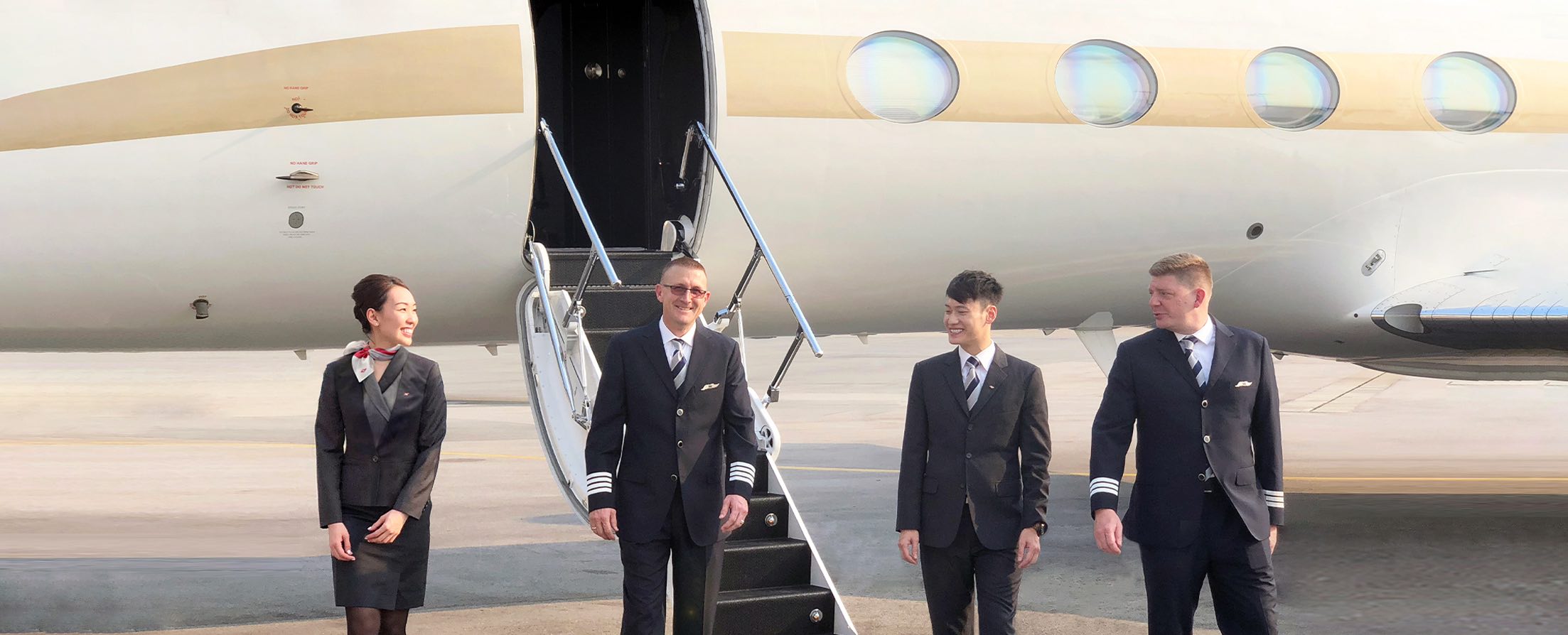 HIRING AVIATION STAFF
Generally, it is advised to hire a permanent team to staff your jet. They are best placed to handle the aircraft and ensure service continuity. However, we also offer flexible crewing solutions, temporary or permanent, designed to meet your needs. If you're looking for a permanent solution to achieve your exclusive travel requirements and manage the day to day operation of your aircraft, keep these considerations in mind:
A dedicated flight crew is the best option, offering stability and service continuity.


Crew members will require a flexible schedule for unexpected flights.


Flight attendants will possess VIP cabin crew experience.


TAG vetted contract crew are available for short term needs.
CREW POSITIONS

CAM Captain - These experienced Captains are appointed to advocate for you and liaise between TAG, the crew and external service providers. They manage the overall day to day operational planning, aircraft budgets, crewing and maintenance schedule.

First Officer - A FO is an active crew member who may be assigned as a flying or non-flying pilot and augments your crew for long or ultra-long-haul operations.

Dedicated Engineer - A Dedicated Engineer ensures that all maintenance is performed in accordance with the manufacturer's maintenance recommendations, company manuals, policies and procedures. This role coordinates and supervises all required maintenance activities to ensure airworthiness and dispatch reliability.

Flight Attendant - A corporate Flight Attendant is dedicated to providing the highest level of safety while delivering exclusive concierge-level inflight service.
RECRUITMENT PROCESS
For our pilots, aircrew selection involves a comprehensive process that includes a technical aptitude and flying assessment, experience review and ensuring client and company compatibility. Each of our dedicated crew members will have successfully completed a full background check, a rigorous interview process, a personality and behavioural evaluation, in-depth medical screening, and a simulator evaluation testing both the pilot's flying ability and airmanship.
Contract crewing is also available as an option to augment your current dedicated crew or for short-term relief and holiday cover. Our database of qualified and available crew members will meet your needs no matter what they are.
THE TAG WAY
At TAG we pride ourselves on hiring the safest and most experienced crew who are motivated by performing to the highest standards. We seek ambitious individuals who want to share their insight and ideas to drive innovation, impress our clients and lead the industry. Simply living up to our name Technique d'Avant Garde.
Our talent pool of pilots allows us to generate opportunities for our clients to hire vetted potential crew members for freelance, contract or permanent employment.
Our dedicated team ensures our managed aircraft are crewed with safe, well-trained, and current aviators. Our cabin crew are highly trained and join us with years of corporate and commercial flying experience. Our state-of-the-art service and safety training centres are unique to business aviation.
Consult with our expert to get a customised solution for your private aviation needs.